President Xi Jinping is all set to rule over China for life as Chinese parliament passed an amendment in the constitution which has cleared the way for Xi to follow the path of Chinese revolutionary leader Mao. But contrary to other leaders of the world, Xi Jinping had covered a long path to reach the top position in a country which is emerging super power of the world.
Five decades ago, as the chaos of the Cultural Revolution engulfed Beijing, the 15-year-old Xi Jinping embarked on a harsh rural life amid the yellow canyons and mountains of inland China.
The region where Xi farmed was a bastion of the Communists during the civil war. Yan'an came to call itself "the holy land of the Chinese revolution".
The village where he grew up is now a pilgrimage destination for the Communist Party faithful.
His early Life:
Xi Jinping was born June 15, 1953, the son of a well-placed Chinese Communist Party leader, Xi Zhongxun, a former comrade of Communist China's founder Mao Tse-tung. After the founding of the People's Republic of China in 1949 by Mao Zedong, Xi's father held a series of posts, including propaganda chief, vice-premier, and vice-chairman of the National People's Congress. Xi's father is from Fuping County, Shaanxi, and Xi could further trace his patrilineal descent from Xiying in Dengzhou, Henan. He is the second son of Xi Zhongxun and his wife Qi Xin.
How Mao's cultural revolution engulfed Xi's childhood: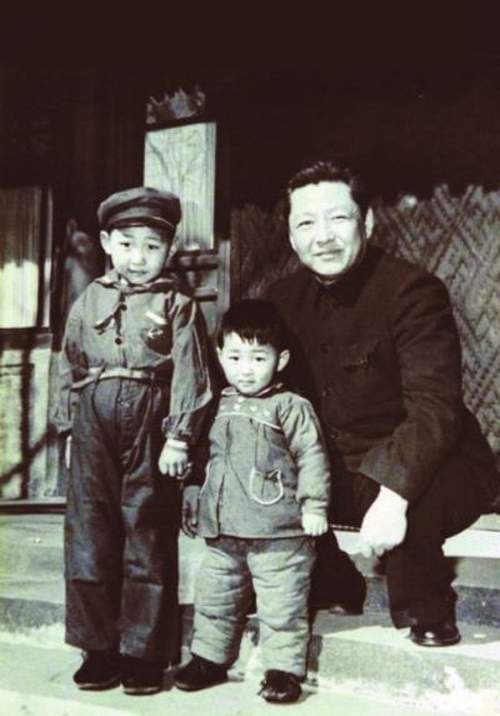 (The young Xi Jinping (left) with his younger brother and their father)
In 1966, Mao launched the Cultural Revolution, a sociopolitical movement intended to preserve "true" Communist ideology and purge remnants of capitalist society. All formal education was halted, and Xi Jinping, at that time in high school, was sent down to work in a remote farming village for seven years, doing manual chores and subsisting on rice gruel. It was there that Xi grew up both physically and mentally. Considered a weakling when he first arrived, he grew strong and compassionate and developed good relations working alongside the villagers. Though the Cultural Revolution was a failure, Xi emerged with a sense of idealism and pragmatism.
In 1963, when Xi was age 10, his father was purged from the Party and sent to work in a factory in Luoyang, Henan.The Xi family home was ransacked by student militants and one of Xi's sisters, Xi Heping, was killed. Later, his own mother was forced to publicly denounce him as Xi was paraded before a crowd as an enemy of the revolution.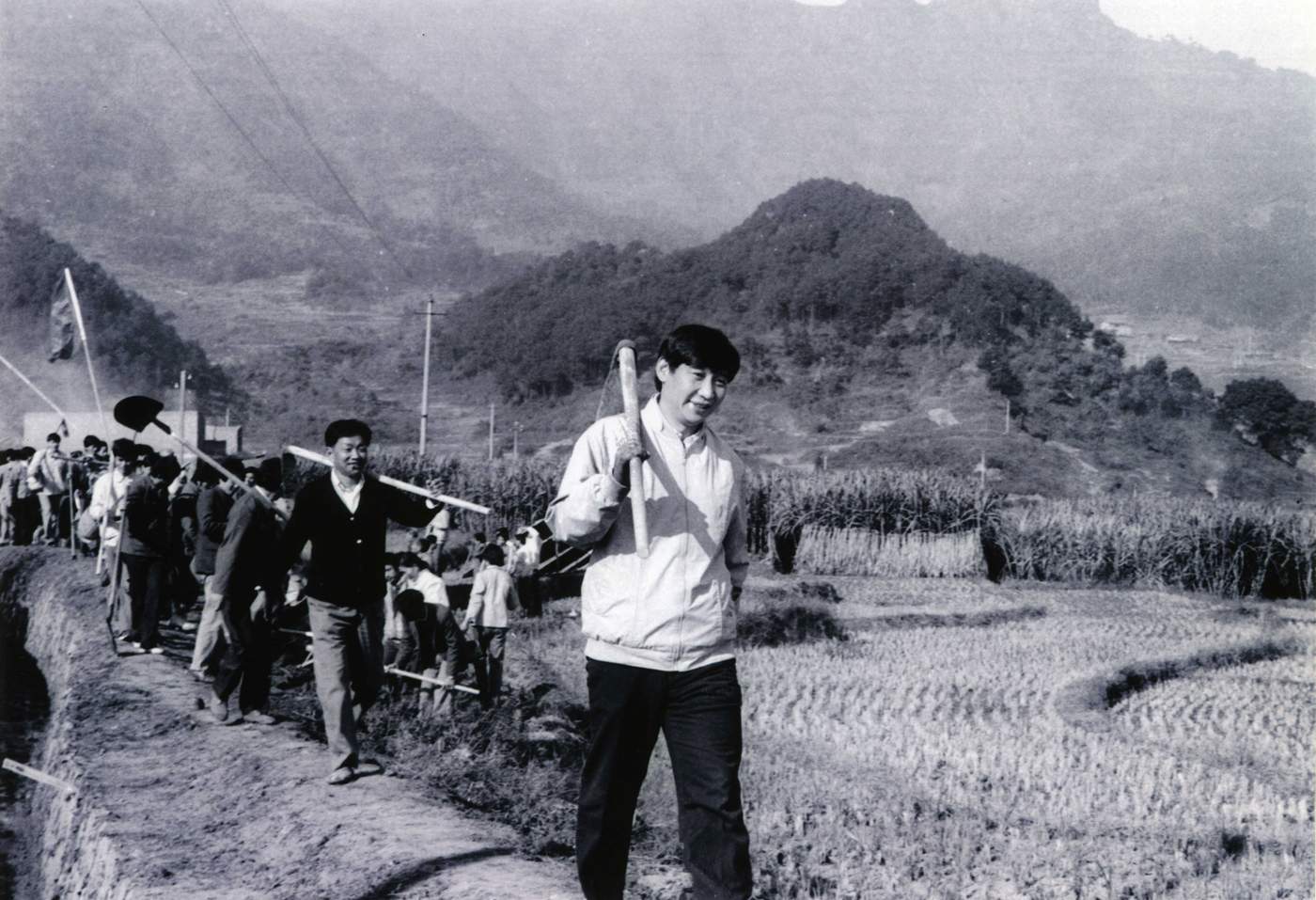 Xi was aged 15 when his father was imprisoned in 1968 during the Cultural Revolution; Xi would not see his father again until 1972. Without the protection of his father, Xi was sent to work in Liangjiahe Village, Wen'anyi Town, Yanchuan County, Yan'an, Shaanxi, in 1969 in Mao Zedong's Down to the Countryside Movement. After a few months, unable to stand rural life, he ran away to Beijing. He was arrested during a crackdown on deserters from the countryside and sent to a work camp to dig ditches. He later became the Party branch secretary of the production team, leaving that post in 1975. When asked about this experience later by Chinese state television, Xi recalled, "It was emotional. It was a mood. And when the ideals of the Cultural Revolution could not be realised, it proved an illusion."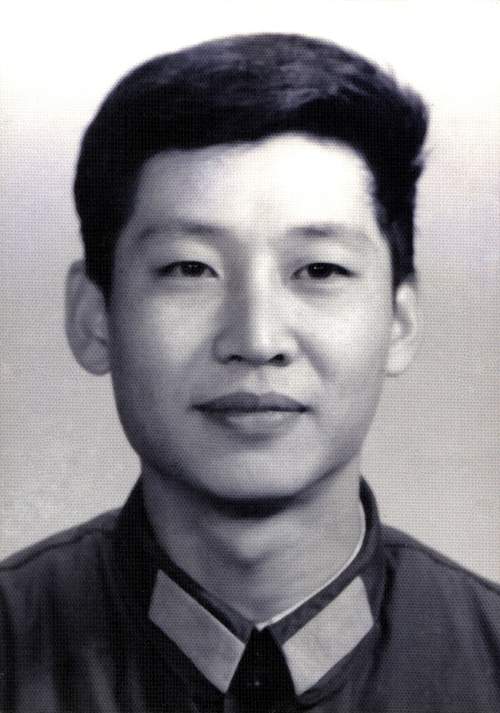 From 1975 to 1979, Xi studied chemical engineering at Beijing's prestigious Tsinghua University as a "Worker-Peasant-Soldier student", where engineering majors spent about one-fifth of their time studying Marxism–Leninism–Mao Zedong thought, doing farm work and "learning from the People's Liberation Army".
From 1979 to 1982, Xi served as secretary for his father's former subordinate Geng Biao, the then vice premier and secretary-general of the Central Military Commission. This gained Xi some military background. In 1985, as part of a Chinese delegation to study U.S. agriculture, he stayed in the home of an American family in the town of Muscatine, Iowa. This trip, and his two-week stay with a U.S. family, is said to have had a lasting impression upon him and his views on the United States.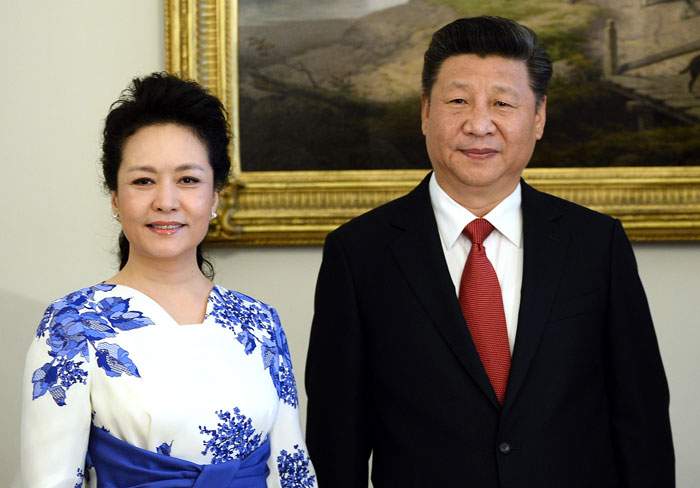 (Peng Liyuan with her husband, Xi)
From 1998 to 2002, he studied Marxist philosophy and ideological education in an "on-the-job" postgraduate programme at the School of Humanities and Social Sciences, again at Tsinghua University, and obtained a Doctor of Law (LLD) degree, which was a degree covering fields of law, politics, management, and revolutionary history, though commentators have questioned this qualification.
In 1968 Mao had decreed that millions of young people should move from the cities to the countryside to learn from the hard life of the peasants.
Xi says he did learn, and that the ideas and qualities which define him today were formed in his early cave life. "I'm forever a son of the yellow earth," he likes to say. "I left my heart in Liangjiahe. Liangjiahe made me.
"When I arrived at 15, I was anxious and confused. When I left at 22, my life goals were firm and I was filled with confidence."
Back then everyone studied Chairman Mao's famous little red book. Now the thoughts of Chairman Xi are posted on huge red hoardings and there is a museum in his honour. It extols the good deeds he did for his fellow villagers but all trace of true personality has been expunged in a story so saintly it is hard to work out what is real.
In his first five years in office, Xi Jinping has built a personality cult. At its core is the image of a man of the people. He has toured back-alley homes, ducking through washing lines. He has talked in earthy prose, telling students that life is like a shirt with buttons where you have to get the first few right or all the rest will be wrong. He has queued in a downmarket steamed-bun shop and paid for his own lunch.
Rise in the Communist Party: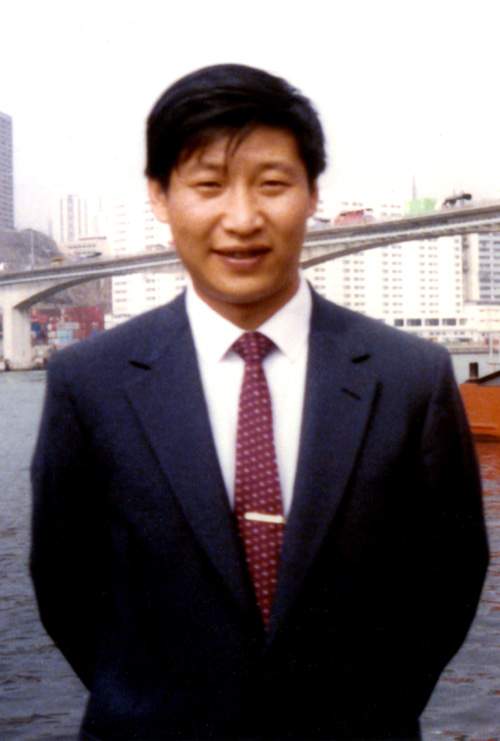 After numerous unsuccessful attempts, in 1974 Xi Jinping was accepted into the Communist Party. The following year he began to study chemical engineering at Beijing's Tsinghua University, earning a degree in 1979. From that point forward, he steadily rose through the ranks of the Communist Party. Between 1979 and 1982, Xi served in the Central Military Command as vice premier, gaining valuable military experience. It was around this time that he married his first wife, Ke Lingling, the daughter of the Chinese ambassador to Great Britain. The marriage ended in divorce within a few years.
From 1983 to 2007, Xi Jinping served in leadership positions in four provinces, beginning with Hebei. During his tenure in Hebei, Xi Jinping traveled to the United States and spent time in Iowa with an American family, learning the finer points of agriculture and tourism. After his return, he served as vice mayor of Xiamen in Fujian, where in 1987 he married folk singer Peng Liyuan, who also holds the rank of army general in the People's Liberation Army. The couple has a daughter, Xi Mingze, who studied at Harvard University under a pseudonym.
National Prominence:
Xi would make a steady ascent in the ensuing decades, with postings as governor of the Fujian and Zhejiang provinces and as party secretary. In 2007, his career got a further boost when a pension-fund scandal rocked the leadership of Shanghai and he was named as its party secretary. He spent his tenure promoting stability and restoring the city's financial image, and that same year was chosen for the Politburo Standing Committee. In early 2008, Xi's visibility became even greater when he was elected vice president of the People's Republic of China and placed in charge of preparations for the 2008 summer Olympics in Beijing.
Elected Leader of the People's Republic of China:
In early 2012, Xi Jinping traveled to the United States to meet with President Barack Obama and members of his cabinet. He also made a nostalgic trip back to Iowa and then visited Los Angeles. During his visit, he spoke of increasing trust and reducing suspicions between the two countries while respecting each other's interests in the Pacific-Asian region.
Later that year, on November 15, Xi Jinping was elected general secretary of the Communist Party and chairman of the Central Military Commission. In his first speech as general secretary, Xi broke from tradition and sounded more like a Western politician, speaking about the aspirations of the average person and calling for better education, stable jobs, higher income, a more reliable safety net of retirement and health care, better living conditions and a better environment. He also vowed to take on corruption within the government at the highest levels. He referred to his vision for the nation as the "Chinese Dream."
On March 14, 2013, Xi completed his ascent when he was elected president of the People's Republic of China, a ceremonial position as head of state. In his first speech as president he vowed to fight for a great renaissance of the Chinese nation and a more prominent international standing.
His stringent drive against corruption:
Fulfilling one of his early promises, Xi almost immediately embarked on a campaign to deal with government corruption. He arrested some of the country's most powerful figures, including former security chief Zhou Yongkang, and by the end of 2014 the CCP had disciplined more than 100,000 officials.
The economic reforms:
Xi also set about stimulating a slowing economy. In 2014, China introduced the "One Belt, One Road" initiative to bolster trade routes and launched the ambitious Asian Infrastructure Investment Bank. Domestically, his party expanded the power of private banks and allowed international investors to trade shares directly on the Shanghai stock market.
Xi has also changed some of the laws enacted by predecessors, formally ending China's one-child policy in 2015. His elimination of the "reeducation through labor" system, which punished individuals charged with petty crimes, was viewed favorably.
The controversies around him:
The Chinese leader has drawn scrutiny for his methods. Critics have noted that his crackdown on government corruption mainly targeted political opponents, and the CCP has come under fire by human rights groups for jailing journalists, lawyers and other private citizens. Under Xi's reach, censors have sought to eliminate Western influence in school curriculums and limited the public's internet access.
Xi has also overseen economic regulations that have reverberated beyond his country's borders. The government stepped in to prop up a sagging housing market in 2014, and suddenly devalued the yuan in the summer of 2015. Despite promising during a trip to the United States in September that China would never manipulate currency to increase exports, Xi has been accused of that very approach.
Xi's military reforms:
As part of his goal to establish China as a 21st century global superpower, Xi has pushed for military reform to upgrade naval and air forces. Already chairman of the Central Military Commission, in 2016 he added the title of commander in chief of its joint battle command center.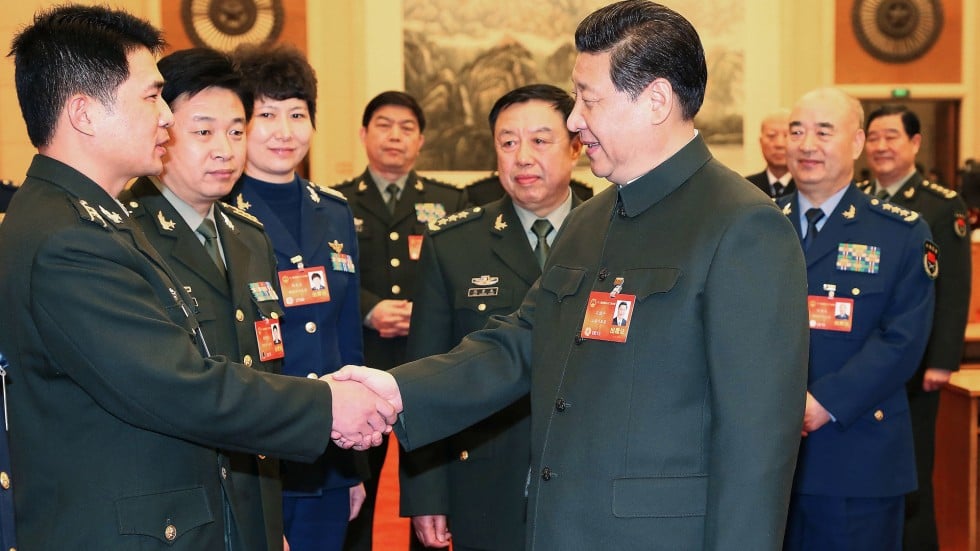 In recent years, Xi has asserted China's naval capacities through the construction of artificial islands within disputed territories of the South China Sea. Despite his claims to the contrary, satellite photographs indicated that the islands were being used to house military developments. In July 2016, an international tribunal in The Hague ruled that China had illegally claimed those territories, although China refused to accept the authority of that ruling.
His policies towards The West:
Xi has publicly acknowledged the need for China to cooperate with its Western counterpart on the issue of climate change. In September 2016, Xi and U.S. President Barack Obama announced they were formally adopting the international climate-change agreement reached in Paris the previous December to reduce emissions from the world's two largest economies.
In November 2017, Xi met with U.S. President Donald Trump for a two-day summit in Beijing. Despite earlier accusing China of being a currency manipulator, Trump offered praise this time around for the country taking advantage of financial opportunities. For his part, Xi spoke about a "win-win" cooperation between the two economic superpowers, announcing memorandums of understanding to increase trade by $253 billion.
However, the two leaders then contrasted one another during their subsequent appearances at the Asia-Pacific Economic Cooperation summit in Vietnam. In his speech, Trump criticized the development of globalization for harming American workers and companies, declaring, "we are not going to let the United States be taken advantage of anymore." Taking the stage immediately afterward, Xi painted a glowing picture of the collective benefits of globalization, saying, "let more countries ride the fast train of Chinese development."
Emergence as the most powerful leader of China:

In October 2017, during a meeting of the 19th National Congress of the Communist Party, delegates voted to add the words "Xi Jinping Thought for the New Era of Socialism with Chinese Special Characteristics" to the party constitution. The addition was meant to serve as a guiding principle for the party moving forward, with Xi's vision paving the way for global leadership in the years to come.
Furthermore, the constitutional change boosted Xi's status to match those of exalted former Communist Party heads Mao Tse-tung and Deng Xiaoping. It was believed that, as one of the country's strongest leaders in decades, Xi possessed the ability to hold on to power as long as he desired.
In late February 2018, the Communist Party's Central Committee proposed scrapping term limits for China's president and vice president, potentially setting the table for Xi to govern indefinitely. While the proposal was expected to meet with little resistance in parliament, the news sparked a flurry of social media criticism, prompting Chinese internet censors to delete negative comments and block related search terms.