The Congress has accused the central government of holding the newly elected MLA Anand Singh in captivity in New Delhi.
At the press conference in Bengaluru, party leader Ghulam Nabi Azad claimed, "Anand Singh is in Deli, he is in captivity, he has been held captive by the government of India."
Who is Anand Singh:
B S Anand Singh is a MLA who did not show up to the legislative party meeting held in Bengaluru on May 17. Speculations tiggered that that he may rejoin the BJP. While Congress MP D K Suresh said Anand Singh is "in clutches of Narendra Modi", JD(S) chief H D Kumaraswamy said the Modi government is "threatening" MLAs. Congress leader Veerappa Moily, however, said Anand Singh is "safe".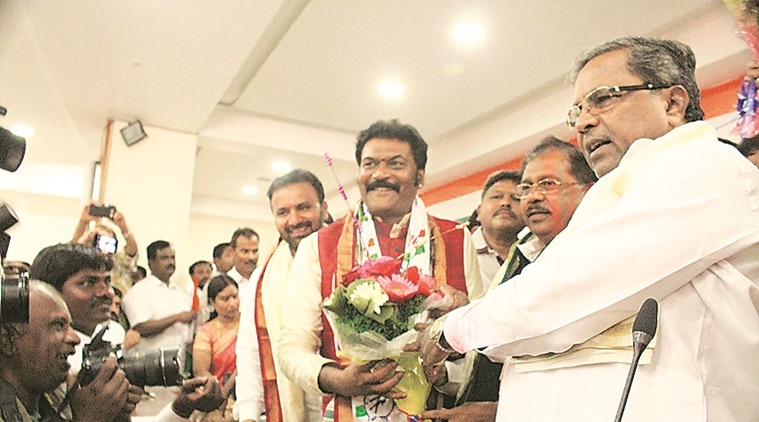 (Anand Singh with former Karnataka CM Siddaramaiah in Bengaluru.)
Anand Singh had been former Karnataka Minister and two-time MLA from Vijayanagar in Ballari. He left BJP in January 2018 to join Congress ahead of the Assembly elections this year.
He gave the reson "Constant squabbling and bickering" in the party for leaving BJP. Then Karnataka Chief Minister Siddaramaiah had said Singh left BJP and joined the Congress as there was "no place for secular principles there".
A leading businessman Anand Singh is also one of the richest politicians of Karnataka with assets worth over Rs 104 crore. A car freak, he is stated to possess 25 vehicles, including Bentleys, Mercedes Benzes and Tata trucks. Singh wears two hats, that of an editor of a newspaper, Ananda Karnataka Daily and a mining baron.